Here at SubGravity, we are constantly working to create the best gear possible.  If our equipment isn't better, we might as well not make it.
When we first looked at launching our own line of DPVs, we had one rule:  "Don't make just another scooter".  We looked at what was already available to consumers in the U.S., then expanded our search globally.  During these months of intense research, it became very clear that there was already a scooter manufacturer with a design that was clearly above the rest- Bonex.  We were so impressed by the German craftsmanship and engineering, we knew we had to bring them to the North and South American market.
SubGravity DPVs, engineered by Bonex, are all about high performance and reliability in a compact package. These innovative scooters have been developed and tested extensively with these features in mind. Exploration dives are only possible when the equipment meets the demands of the project, is light and is 100% reliable.
Simple operation as well as the easy handling makes diving in advanced environments safer and more enjoyable. State-of-the-art technologies such as lithium-manganese (LiMn) cells and modern servo technology are used in our DPVs. These features (along with many others) offer the safety and runtime that exploration divers expect from their high end equipment.
Keep on scrolling and let us walk you from top to bottom!
| | Warning: No person should attempt to operate, or use in any way, a diver propulsion vehicle (DPV or Scooter) without the proper training. Please read carefully and understand the instructions for use before using a SubGravity DPV for the first time. |
| --- | --- |
"Amazing how
Bonex

can pack that much punch in small package and keep up with speed and ride quality."
Nose
Locking System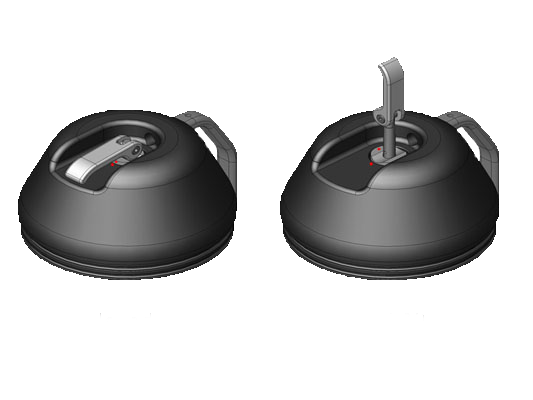 The locking system is located centrally in the nose. This dispenses with the need for housing snap catches. It is opened and closed quickly and reliably by releasing the central lock. Interior ventilation compensates for pressure fluctuations.
When unlatched, it automatically balances internal and external pressure, meaning you never have to fight to close your scooter.
Nose
The nose is made of Delrin (or POM) for good impact strength. This takes hard knocks without lasting deformation even at low temperatures.
This material grade is highly regarded for its impact strength. It also features the needed flexibility to, for example, absorb impacts even in a low temperature environment. At the same time it is strong enough, to avoid deformation. POM is used for the nose and various attachment parts.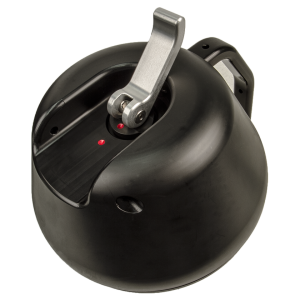 Weighting
"Long story short, I love my
Bonex from SubGravity

!"
Body / Internals
Body
Internal Structure
Custom Brushless Servo Motor
Battery Technology
"Everything worked as expected or even better."
Safety Features
Functional Safety
An effective direct main switch is provided on all SubGravity scooters. This can be used to immediately switch off the drive in all diving situations. A soft start increases the operating safety by preventing abrupt movement. The power supply is increased temporarily when starting so that more thrust is available. This boost function can also be activated on the move and serves for maneuvering narrow openings with an increased current or starting up with heavy loads. The motor switches off immediately if an object gets caught in the propeller. The obstruction can be removed without danger and the dive continued. This cut-off protects both the operator and the entangled objects as well as the drive assembly of the Scooter.
Emergency Bypass System
Emergency operation is also possible by switching to a second, redundant control circuit.
The emergency drive switch is part of its own circuit which maintains drive operation in the event of an electronic failure. Cave divers, in particular, appreciate this safety feature as in certain cases, the DPV is critical to a safe exit.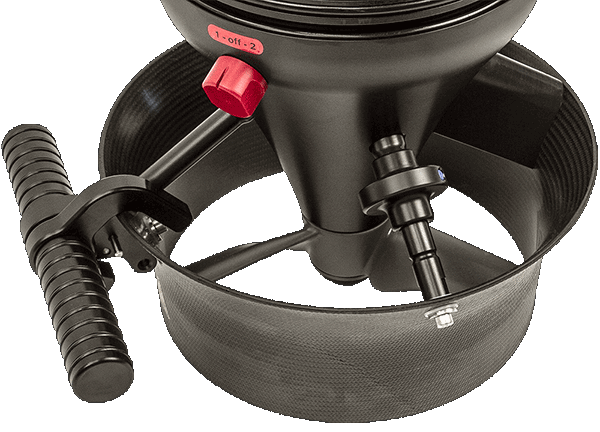 Flood Tolerant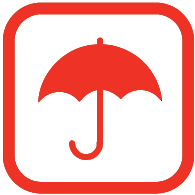 All components of the DPVs are water-tight, and the electronic components have been additionally encapsulated. The SubGravity scooter, engineered by Bonex, will continue to operate even when water penetrates (partial flood). Should any problems arise, emergency operation is also possible by switching to a second, bypass control circuit.
Prop Stop Feature
Instead of a mechanical clutch, Bonex has developed an electronic cutoff for the safety of their divers. Were anything to impede the prop, it will automatically shut down. The diver can then safely remove the item (equipment, line etc), reset the DPV and continue on their way.
Tail
Aluminum Tail End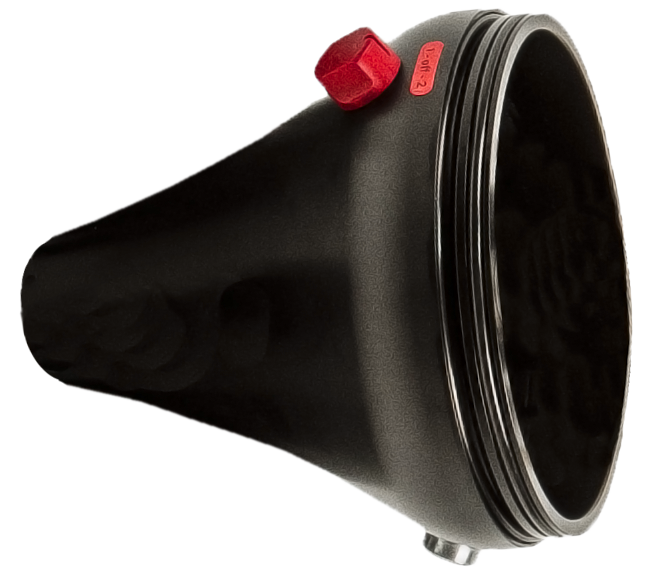 The back is made of aluminum for stability and optimal heat dissipation. A hard anodising improves the corrosion protection.
Aluminum is produced in numerous alloys. For stability and better corrosion resistance there are no welds in the tail section. By using a sacrificial anode of zinc, the diver can effectively avoid corrosion. SubGravity DPVs, engineered by Bonex are ready for years of enjoyment in both fresh and salt water.
Power Controls
Hard to miss.
Harder not to love.
Easy to operate knobs - even with dry gloves!
Infinite speed adjustment on Reference RS and Discovery RS
5 Speeds on the Ecos +
The most effective form of speed change is the rev speed regulation. As opposed to most, instead of simply adjusting the voltage supplied to the motor, SubGravity scooters regulate the propeller revs directly by the servo drive. In simple english, this means that the speed regulation knob is sending a signal to the motor with the desired RPM. The propeller speed is set by the knob and changes the end speed of the scooter. What does this mean to the diver? This means, at a given setting, the RPM will be the same whether your battery is at 100% or at 35%.
These settings can also be made conveniently while moving. This enables a diving team to adapt quickly and easily to changing conditions.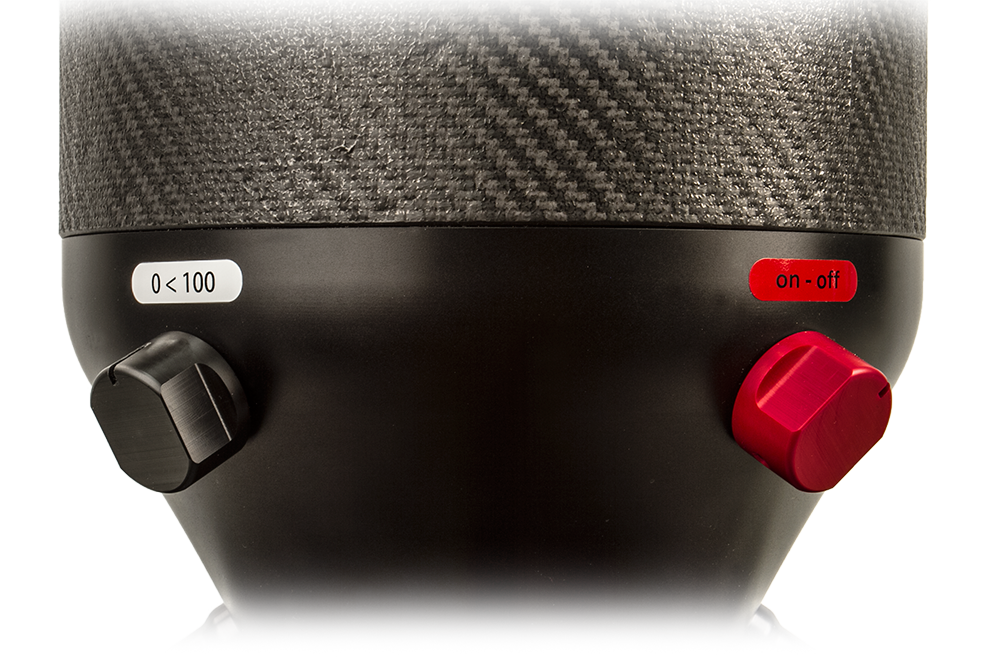 Custom Carbon Shroud
Low form factor, massive performance.
The custom manufactured carbon shroud, is designed specifically and exclusively by Bonex for DPVs. It offers a smooth and corrosion resistant surface, is unaffected by pressure all the while being lightweight. Using the experience, testing and design work employed in the nautical industry, the shroud was designed to maximize dynamic thrust and dramatically increase the overall efficiency of the entire system.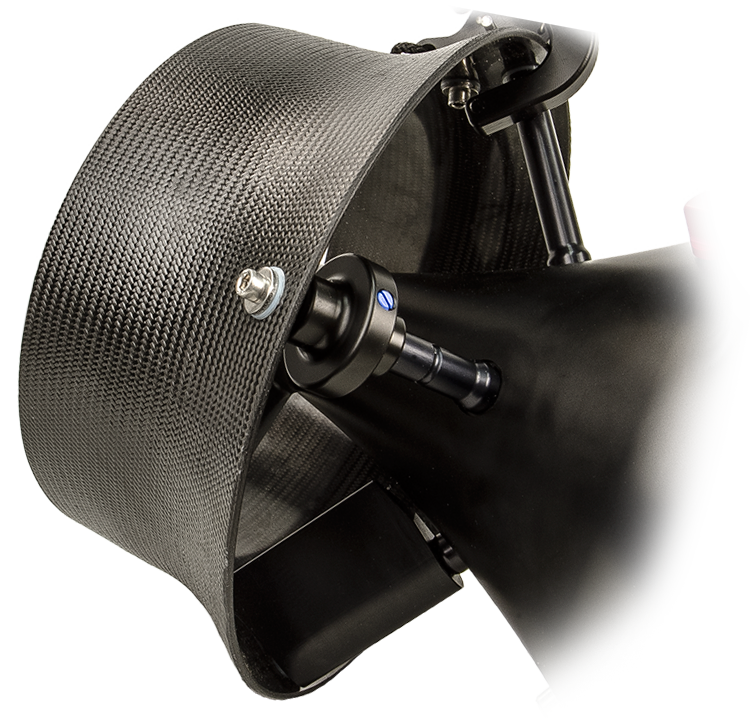 Patented Torque Control Device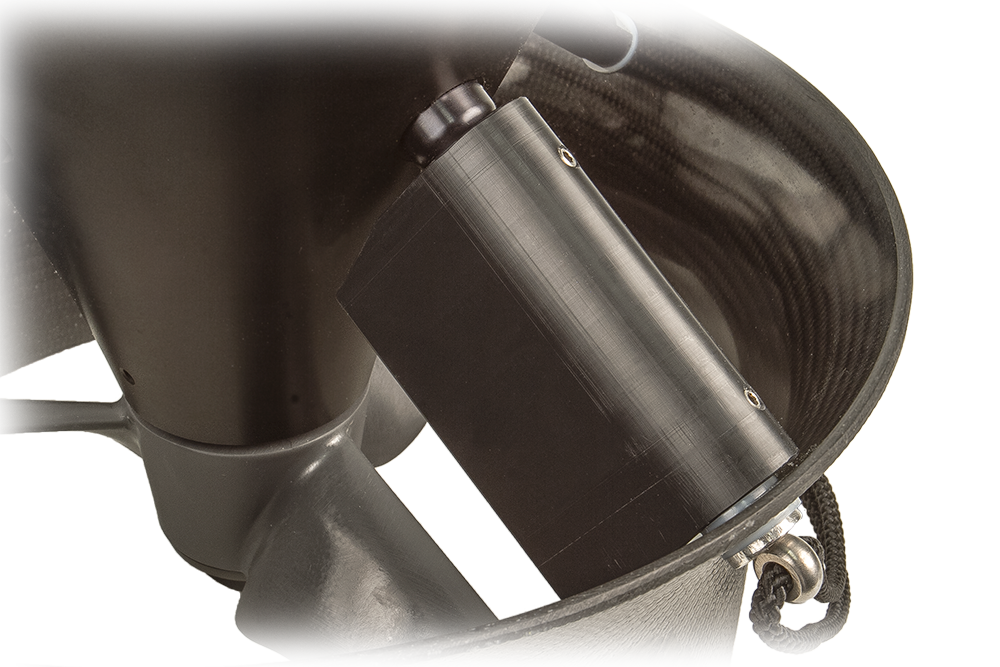 Patented device allows for a perfectly symmetrical scooter ride. By not using an offset weight in the DPV, the SubGravity DPVs can remain perfectly balanced. Meaning the handle stays upright, where you left it.

Prop
Custom designed propeller designed especially by Bonex. The scooter's specially designed propeller finds the sweet spot between fantastic coordination and maximum efficiency for converting power into propulsion.
User can easily remove the propeller during the dive in case of line entanglement, or if your looking for something to do while you wait for your buddy to catch up...
The most sensitive functional part of the Scooter is the propeller. Its job is to convert the motor power into thrust as efficiently as possible. A top class Scooter therefore features a high efficiency which is achieved preferably by a rigid propeller. This is optimised both in terms of the jet and the motor speed. The propeller can be unscrewed and screwed back on easily underwater if a line gets tangled.
3 blade standard prop
3 blade performance prop (RS)
5 blade high-thrust prop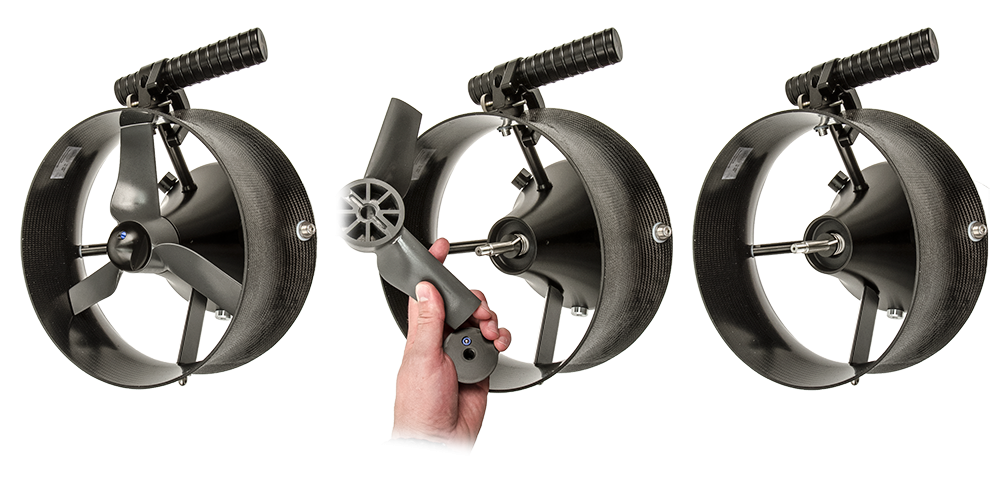 Quick Shift Programing
Standard on all Reference and Discovery models from SubGravity!
The Quick Shift feature, engineered by Bonex, allows the ultimate in usability by the diver. A simple "double click" of the throttle allows the instant adjustment to 100% speed from whatever the diver had selected with the speed regulation knob. Cave divers in particular love this feature, as it really comes in handy when you need that "extra boost" for the high flow in a passageway, or you need to catch up to a buddy. The quick shift feature was designed an implemented based on experience and the desire for the ultimate user experience.
Please note this features is not available on the Ecos + model.

"I was extremely impressed with the seeming lack of torque transmitted to my forearm. The design has taken this into consideration and engineered it to be stable, powerful, light, and still comfortable."
"One can compare specs on the paper and say otherwise, but what really matters is how it performs in water."
DPV Specifications
Weight and Dimensions
Ecos + / Ecos S
Length:
23.5 Inches / 600 Millimeters
Body Diameter:
8.5 Inches / 215 Millimeters
Shroud Diameter:
11.75 Inches / 300 Millimeters
Weight:
33lbs / 15kg
Reference RS
Length:
27.16 Inches / 690 Millimeters
Body Diameter:
8.5 Inches / 215 Millimeters
Shroud Diameter:
11.75 Inches / 300 Millimeters
Weight:
41.88lbs / 19kg
Discovery RS
Length:
33.5 Inches / 850 Millimeters
Body Diameter:
8.5 Inches / 215 Millimeters
Shroud Diameter:
11.75 Inches / 300 Millimeters
Weight:
55lbs / 25kg
Speed
Ecos +
Max Speed:
220 Feet per Minute / 67 Meters per Minute
Cruising Speed:
150 Feet per Minute / 45 Meters per Minute
Ecos S
Max Speed:
230 Feet per Minute / 70 Meters per Minute
Cruising Speed:
150 Feet per Minute / 45 Meters per Minute
Ref / Disco RS
Max Speed:
280 Feet per Minute / 85 Meters per Minute
Cruising Speed:
150 Feet per Minute / 45 Meters per Minute
Thrust
Ecos +
260 N
58.5 lbs
26.5 kg
Ecos S
270 N
60.7 lbs
27.5 kg
Discovery / Reference RS
330 N
74.20 lbs
33.7 kg
Run Times
Ecos +
Cruising Speed:
Up to 200 minutes (3.33 hours)
Top Speed:
Up to 100 minutes (1.66 hours)
Ecos S
Cruising Speed:
Up to 200 minutes (3.33 hours)
Top Speed:
Up to 90 minutes (1.5 hours)
Reference RS
Cruising Speed:
Up to 260 minutes (4.33 hours)
Top Speed:
Up to 105 minutes (1.75 hours)
Discovery RS
Cruising Speed:
Up to 520 minutes (8.66 hours)
Top Speed:
Up to 210 minutes (3.5 hours)

Range
Ecos + / Ecos S
Up to 8 km (5 miles)
Reference RS
Up to 10 km (6.2 miles)
Discovery RS
Up to 20 km (12.4 miles)